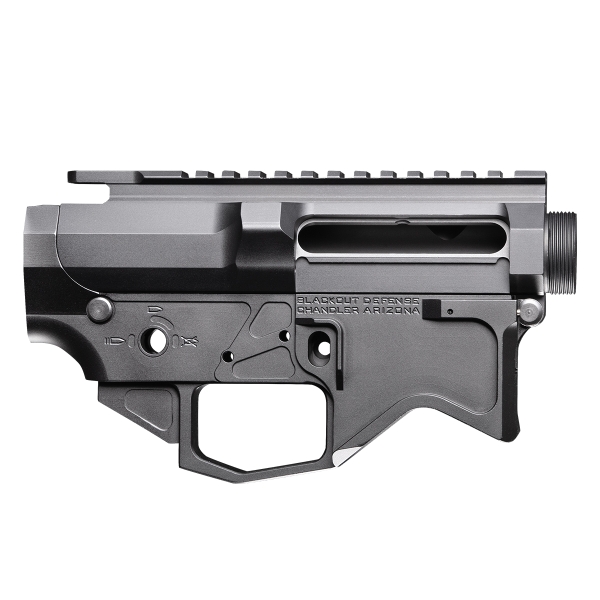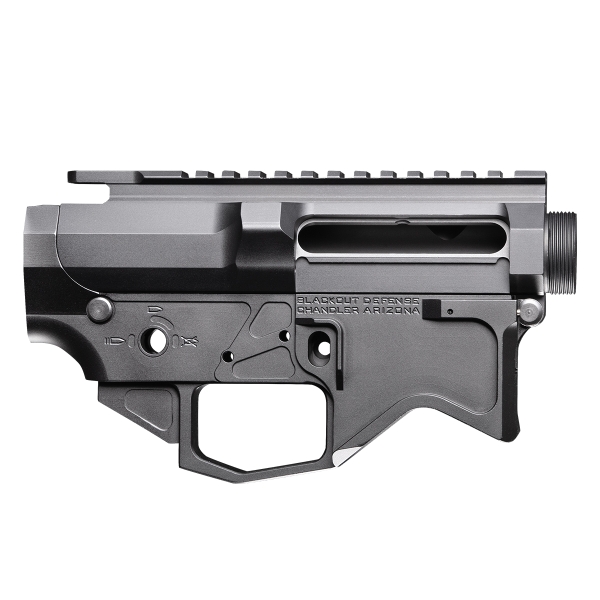 Receiver Set + Handguard
$739.99 – $759.99
Receiver Set + Handguard
Some of our best technology lies in our receivers and handguards. This kit includes those Quantum Mark 2 components: lower receiver, upper receiver, and handguard. Combine these with your favorite barrel, or one of ours, and you have one of the sleekest, smoothest shooting, and most reliable AR-15's on the market.
Lower Receiver
Mil-Spec dimensions, but so much more. Made from Aerospace Grade Aluminum, our Quantum Mark 2 lower receiver features a flared V-Cut magwell, giving style points while aiding in faster magazine changes. But perhaps the biggest magic is in the Linear Compression Pad slot (pads included). The Linear Compression Pad provides a constant 6 pounds of pressure onto the front of the upper receiver, providing a tight, rattle-free fit to just about any upper you put on it. This method is superior to rear tension screws often found in the high-end receivers. Rear tension can cause premature wear on your extension tube while exacerbating carrier tilt.
Upper Receiver
The upper receiver is machined from Aerospace Grade Aluminum with enhanced walls for greater rigidity and structural integrity – all while keeping a low profile. It features two anti-rotation holes that align precisely with our handguard. During install, insert the two alignment pins, align the handguard, and tighten. What you're left with is a monolithic-like style and design with an extremely robust upper/handguard combination.
The dust cover often goes unnoticed in an AR-15. Not to us. The dust cover is fully contained within the upper receiver. We don't rely on a C-clip to keep everything in place. Instead, the dust cover hinge pin is held in place by the barrel nut, ensuring nothing comes loose during operation. One thing you'll notice upon installing the dust cover, it will be tight to close. Due to the variation of dust cover manufacturers and their loose tolerances, we've machined a very thin locking groove in the upper receiver. This allows the ball detent of the dust cover to "cut" its own channel in the upper receiver, ensuring a positive, audible lock up and exact alignment.
Handguard
Our handguard brings the full package together with its monolithic-like style when paired with our upper. Like to accessorize? Our handguard gives you five sides of M-LOK compatible mounting slots with a full-length Picatinny top rail. Even if you don't fill this space with lights and lasers, the hand deburring process it goes through ensures a smooth finish throughout. And for style-conscious people, our barrel nut is hidden to provide an even cleaner look.
Features
Patented Presslock design and technology
Reinforced in critical areas such as the buffer tube and trigger pin joints
Flared magazine well
Oversized trigger guard
Monolithic-like appearance between upper and handguard
Threaded bolt catch roll pin for simple and clean installation
Threaded takedown pin detent recess
Pre-installed takedown and pivot pins
Pre-installed threaded bolt catch pin
Alignment pins between upper and handguard
Includes five (5) yellow Linear Compression Pads
Includes barrel nut and mounting hardware
Includes heavy duty billet spanner wrench
Includes red Loctite capsule for handguard hardware
Includes alignment pins